Fingerplay™ is the art of playing (touching) your fingers in certain sequences – "songs" that can restore your body systems – your silent music – to harmony. Fingerplay™ is also a fascinating awareness: Becoming aware of the pathways of energy that traverse your body, and feeling them relax into their natural rhythm as you play.
Fingerplay™ is using your fingers to gently balance the flow of energy within your body. Your body has it's own energetic system which can be accessed on your fingers! Fingerplay™ teaches you how to play your fingers.
Each finger is assigned a symbol that corresponds to symbols in the book that are used to perform the silent Fingerplay™ music to harmonize the flow patterns of Jin Shin Jyutsu® (JSJ) within the body.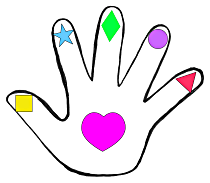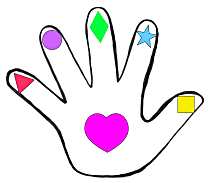 Simple full color charts show you how to play this silent music on your fingers to harmonize the pathways of energy that create each function in your body. Over 200 illustrations help everyone easily understand how to Fingerplay™.
All ages can play, some players in their 90s are the most excited by Fingerplay™, and you can play on others to create harmony for them as well.
Anyone who has fingers can Fingerplay™.
Anyone who wants to be free of pain can Fingerplay™.
Anyone who wants to enhance their own life, their own world, can Fingerplay™.
Fingerplay™–The Silent Music of Harmony™ is both an in depth Reference Book and an Introductory Guide to get you playing quickly. It will give you tools to fully utilize Fingerplay™ in your life.
Included in the Introductory Guide are Quick Start Instructions to get you going until you have the time and inclination to dig deeper. If the Quick Start Instructions make sense to you, start playing right away. You can use the harmonizer index at tab 7 to look up your project; go to the indicated page and Fingerplay™. If you want more info before you dig into playing, the book contains everything you need to gain a more comprehensive understanding so you can become evermore competent at Fingerplay™ for yourself, and even others!
---
---
Notes
Jin Shin Jyutsu® is a registered trademark of Jin Shin Jyutsu, Inc.
Nope! No cookies here!
The information in the book, and on this web site, is not to be interpreted as an independent guide for self-healing. The information provided is intended to complement, not replace, the advice of your own physician or other health-care professional whom you should always consult about your individual needs and any symptoms that may require diagnosis or medical attention and before starting or stopping any medications or starting any course of treatment, exercise regimen or diet.